BAX Security is proud to announce that we have partnered with RSPNDR for all our alarm response services.
RSPNDR is a marketplace that instantly connects monitoring stations to a curated marketplace of guard companies so that the closest available guard to the incident can accept the dispatch on their mobile phone. The benefit is the quickest response time in the industry given the multitude of guards on the road.
The platform provides full real time transparency of every step in the guard response process which, not only improves the response time but improves the overall experience by holding the guard companies to very high standards that the platform tracks and manages.
The RSPNDR platform also provides real time online digital reports including pictures (no waiting for hard copy reports), full audit trail of guard response. All in real time: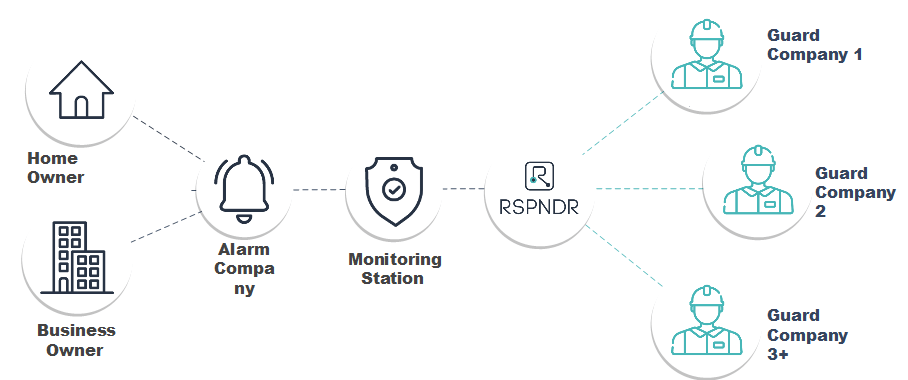 Police departments across the country have increasingly been de-prioritizing response to alarm systems dispatches due to the high percentage of false alarms generated by alarm security systems. However, most false alarms are caused by user error and in some cases improper installation of detection devices by alarm system installers that are not properly trained.
As a result, most regional police forces have implemented expensive false alarm programs that impose expensive fines while lowering their response priority for alarm system dispatches and in some cases, they are not responding at all!
This lower priority means it may take police to respond beyond and acceptable time frame and could potentially lead to a tragic situation in the event of an actual emergency. However, the police will respond much more quickly if they have a verified break-in or emergency.
The importance of has never been more critical. You can now benefit from this new platform with faster response time, verified perimeter checks of your premises, and a detailed report complete with response times.